Pet Doors: Are Any of Them Childproof? Let's find out.
So I was thinking about all the ways young children can escape from their homes. And then I thought, "I bet pet doors pose a problem." So I started to do some research on the subject.
(This post contains affiliate links. This means if you click on an affiliate link and purchase the item, we will receive an affiliate commission at no extra cost to you. Full disclaimer.)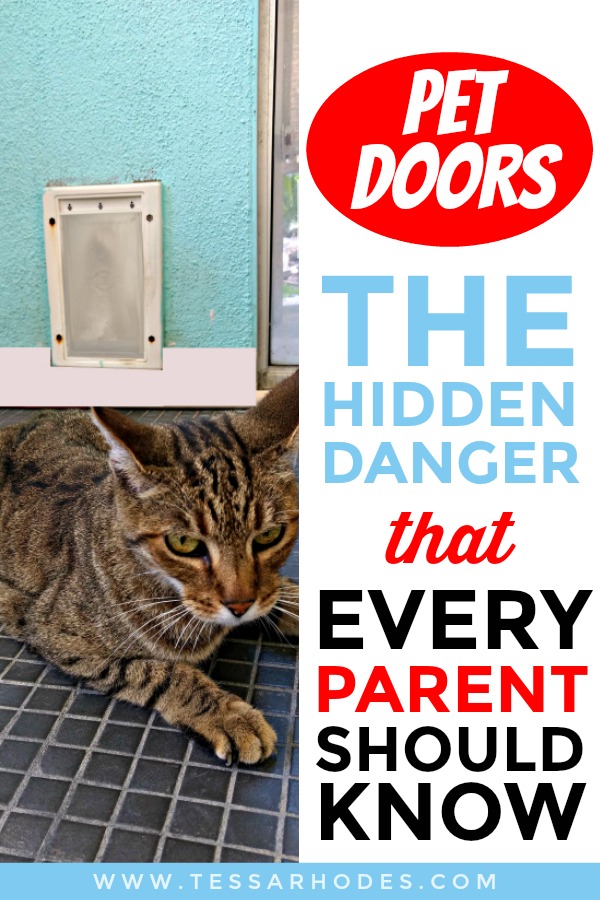 I found some parents in forums asking if they should be concerned about installing a pet door. "Will my child be able to escape through it?"
Some parents replied with "I never had any problems. My kids never tried to get through it," Leaving the concerned parent with a false sense of security.

I probably would've replied with the same lack of concern back in the day, since my son never tried to get out of the house. It was just not part of his nature.
Then it happened
The other day, I was speaking on the phone with one of the mother's (let's call her Susan) of one of my students (let's call him Albert since I enjoy coming up with names that parents today would never name their child).
In the middle of the conversation, Albert tried to escape through the pet door. Susan responded, and I paraphrase, "you know you're not allowed through the doggie door! Get back in here!"
I thought to myself, "Wow! This pet door thing is a real issue."
Susan shared with me that a few months ago, Albert's grandparents bought him a trampoline designed for toddlers/preschoolers. Well, naturally this was the best gift ever to Albert.
So the trampoline was placed in the backyard. Well, one day, Albert went missing for a moment or two. Within minutes Susan and her husband discovered him outside on the trampoline. He had escaped through the pet door.
Thank goodness they found him right away and no worse for wear. And also lucky that he was jumping on the trampoline and not into the swimming pool.

Some kids are just born escape artists
Tovah Klein, Ph.D., director of the Barnard College Center for Toddler Development says that bolting from a parent's side is a toddler's way of exploring his independence. "Starting around 18 months, toddlers suddenly realize, 'I'm my own person,'" Dr. Klein says. So they're eager to get out of the stroller and check out the world on their own. "They don't understand that when they run off, adults can't necessarily see or protect them," she explains.
Did this particular sentence have an impact on you, as it did with me? "THEY don't understand that when they run off, adults can't necessarily see or protect them." This quote struck a chord with me.
So in other words, toddlers think that their parents are just these magical beings. They must feel so secure all the time. It doesn't matter what they do; they believe that they will always be safe.
More toddler/preschooler escape stories for you because I aim to please
From the Calgary Herald: Last summer, Krista Teare said she was baffled to find lawn sprinklers nestled in bed beside her sleeping son Declan in their Garrison Green home.
"Obviously, he'd been out of our house when we were asleep," said Teare, adding the boy probably squeezed through a dog door to complete his brief escape.
And from right here in the desert: A mother of two of my students told me the other day that her son has been able to crack the code of every type of doorknob and childproof doorknob known to man. There is nothing that won't hold him back.
Scientists today are still analyzing the intricate workings of the toddler/preschooler brain in the hopes of designing the perfect childproof doorknob. Because when little kids want to get through a door, they will find a way.
A door to your house is somewhat of a challenge but a pet door. Easy as pie.
As you can see from this Facebook thread: Even an electronic smart door for pets can't outsmart a toddler.

And in case you were wondering, smart door pet doors are not designed with a child's safety in mind.
Their primary purpose is to keep other neighborhood pets and critters out of your house.
So if your child does escape through the smart door pet door, there's a good chance that he will not be able to get back in.

Pet doors and childhood injury and death
Here's what I found from the Safety Research and Strategies website:
About 3/4 of known pet door incidents end in death or injury.
While a handful of child injury researchers are aware of the link between pet doors and childhood injury and death, even fewer parents are aware of the dangers posed by them.
The size of the opening appears deceptively small. Parents may believe that their child is safely contained inside the home. But an average medium pet door with a typical opening of 8 x 11 inches is recommended by manufacturers for use with pets up to 40 pounds. A 95th percentile, three-year-old male child, weighs only 38 pounds and can easily pass through this opening.
So what can you do to protect your children?
This is what I found on the interwebs 😃  for toddler monitor type devices that you might find interesting of which I have no affiliation. I felt like I needed to let you know that: 
Krista Teare, the mother of Declan, who was found sleeping with lawn sprinklers, developed an innovative toddler monitor. It hangs on the doorknob and alerts you via your smartphone when the door opens. It doesn't work on pet doors, however.
I also found a list of the best GPS tracking watches for kids. It is worth noting however that there are no truly "tamper-proof" models it seems. Most include a silicone band that can be easily removed. Some of the devices do have tamper alerts to let you know if the child – or someone else – tries to remove it, but there's nothing stopping them from doing so.
But unfortunately, I didn't find any devices that are explicitly designed to prevent your child from escaping through a pet door. The closest gadget to contain your little escape artist would be a door sensor, but then it's going to sound an alarm every time your pet exits and enters your home.
And if you want to hear a 120-decibel alarm going off every time your beloved furry family member uses the pet door, then maybe that would be a good option for you.
But for the rest of us, that would get a little tiresome after awhile. Correction. Instantaneously. I don't think your dog or cat would appreciate it either.
Although, it would be fun to witness their reaction. Just one time. Okay, two or three times. Five or six tops. No more than ten times. Then it's just cruel. 😃  Kidding! But seriously, the video WOULD go viral. Just sayin'.
Short of having the perfect toddler monitor the next best thing is to childproof your yard
So if you have a pool, please consider installing a fence (climb-resistant mesh fence is best) around your pool, if you haven't already.
And even if you do have a fence, close supervision is still essential. Children will find creative ways to scale it. Remove any structures that gain access to the pool. Some structures include but are not limited to outdoor furniture, climbable trees, decorative walls and playground equipment.
And if your children often visit friends and or relatives with a pool, please encourage them also to fence it in.
Do the same for other water sources, such as spas and landscae water features.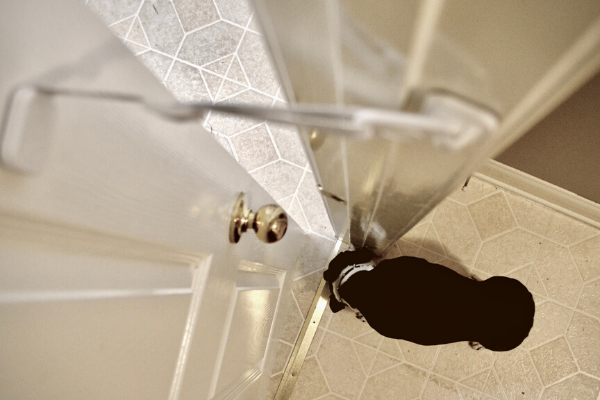 If you are ok with keeping your pets (and of course your child) inside at night, a safer alternative is to forego the pet door altogether and keep your doors closed and locked at night. During the day, you can use a childproof door latch like this one by Door Buddy. It is an adjustable door strap that fits onto your door and frame -out of reach from your child's busy fingers. An added bonus is that you can set it to the perfect width to let your cat (and small dog) in and out while stopping your child from following. You can also opt to get the one with the door stopper. This combo will prevent your child from closing the door and locking your cat in or out. Plus, it helps keep little fingers safe.

Drowning is the number one cause of accidental death among children ages 1-4. These children most often drown in home pools.
Drowning is also easily preventable. And one of the most important and easiest ways to keep your children safe is to erect barriers around your pool, spa, and landscape water features.
If you don't have a pool hopefully, your yard is fenced in…
…So that your kids don't wander out into the street.
The mother of the master doorknob hacker had a story about that too. Her friends (parents of a toddler) both had to call in sick one day from work. They ended up falling asleep at the same time. Upon awakening, their child was nowhere in sight. Fortunately, they found her on the sidewalk without delay or harm.
Maybe a fenced-in yard would've kept her off of the sidewalk and away from the street.
So what have we learned here?
You can't take your eyes off of your kiddo for even a second because they're likely to try to escape and no gadgets or devices currently on the market are 100% effective.
What about you? Do you have a pet door and young children?
If so, what do you do to keep them safe? I would love to know how you handle this dilemma.
Any suggestions or thoughts on the subject that might be helpful to our readers would be much appreciated. Because it's entirely possible that I missed something relevant and maybe you can enlighten us.
I look forward to hearing from you with your brilliant ideas.
Love the water but fence it in, pet doors
Tessa pet doors
P.S. Get the FREE water safety app to help ensure your family stays safe in, on and around the water. It includes kid-friendly videos and quizzes. Search the iTunes app store for Swim by American Red Cross or click here. For Google Play you can use the same search parameters or click here. It provides the latest in water safety guidance to help ensure your family stays safe in, on and around the water.
P.P.S. To start your child on the path to becoming water safe, click here.